The Reviewed & Recognized SM (R2) validation program is the newest offering from the AOAC Research Institute.
Reviewed & Recognized SM (R2) Overview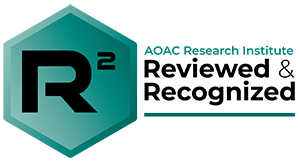 The Reviewed & Recognized SM (R2) validation program from the AOAC Research Institute (AOAC RI) is designed to evaluate performance claims on "application notes", or instructions for use that describe how an instrument or analytical equipment can be used to detect, quantify or identify specified analytes in matrices. Functionally, the R2 program will operate very similarly to the AOAC RI Performance Tested Methods (PTM) program.
The R2 program process is:
The method developer and an AOAC RI technical consultant prepare a validation outline for validation study protocols in the consulting phase.
AOAC staff reviews the application.
The method developer completes its validation study.
The method developer selects an AOAC RI independent laboratory to complete the independent validation study.
AOAC RI facilitates expert peer review of the results of both validation studies. If approved, AOAC RI grants AOAC R2 certification, and the organization is licensed to use the certification mark.
The certification is reviewed for renewal the following year.
Data Requirements for Reviewed & Recognized SM
Data from method developer and one qualified independent laboratory required

Selectivity and method performance for all claimed matrixes
Equipment/component quality assurance
Method transferability

Customized processes available
Method Submission for Reviewed & Recognized SM
AOAC Expert Reviewers review validation manuscripts and application notes for R2 certification.
Certified Methods
Successful methods described in application notes will receive a certification mark and certificate with a unique license number.
Program Pricing
See the AOAC RI fee schedule.
For all questions, contact Nora Marshall, Senior Manager, AOAC Research Institute, at [email protected].