September 30, 2020
New AOAC INTERNATIONAL President Erin Crowley closed out the 2020 Virtual Annual Meeting with a look back at the challenges and successes of the meeting, and a look forward into the future of the organization. Below are her closing remarks.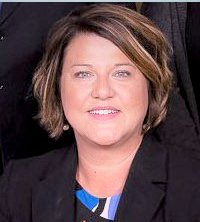 Hello everyone, I'm Erin Crowley, your new President of the AOAC INTERNATIONAL Board of Directors, and I want to thank you for joining me for the closing remarks of what is – unbelievably – the end of the first Virtual Annual Meeting and Exposition of AOAC INTERNATIONAL.
I want to thank all of you for attending the sessions and the meetings over the past two and a half weeks! It's hard to believe that September 8 launched the Analytical Solutions Forum and now, swiftly, we are at the end. Given that the decision was made in June by staff and the Board of Directors to make the switch from an in-person meeting to a virtual meeting – giving everyone just three months to completely pivot – it has been an astronomical undertaking, even more than we realized at the time. So a huge thanks to AOAC staff, especially Lauren Chelf and all of the team at BAV for making this such a success.
In terms of registrations for the AOAC Virtual Annual Meeting, we had a total of 762 registrations, which is quite comparable to what we would have had at a face to face meeting. All of the virtual sessions will be available until March 13, 2021, which will line up right with the timing of the Midyear Meeting. The Virtual Exhibit Hall is open until then as well, so you can still have time to visit – one of the many benefits of the virtual platform.
I am just as grateful for our AOAC INTERNATIONAL Champions and Sponsors for the meeting. Our Champions include Agilent Technologies, bioMérieux, Eurofins, Megazyme, MilliporeSigma, PerkinElmer, Pickering Labs, Shimadzu, Thermo Fisher Scientific, SCIEX and Waters Corporation. And our Sponsors – we want to extend a big thank you to Abbott, Herbalife Nutrition, Millipore Sigma and FONA International. Thank you again for your all of your generous support.
This year's Virtual Poster submitters uploaded a PowerPoint or video to showcase their poster – a great addition to the Annual Meeting. I'd like to acknowledge our team of esteemed judges, Nate Stern of Amway and Quynh-Nhi Li of Neogen, who had the challenging task of reviewing all 192 posters submitted. It's also critical that we acknowledge our very enthusiastic poster organizer, Amit Chandra of Amway for organizing the contest and always exuding excitement about this contest since its inception a few years ago. Congratulations to all the winners.
I mentioned last week after the passing of the gavel, and I want to stress now as we head out into the sunset of this particular meeting, the three objectives that the 2020-2021 Board of Directors will be focusing on in the coming year.
Despite all the uncertainty and unknowns that we all faced in the past year, we have seen an unbelievable commitment to continuing the work of our association that is just so critical. We cannot meet the strategic mission of AOAC without the reputation and relationships that help us provide sustainability for the association, and subsequently the safety and security of new and existing programs, method development and standards development opportunities.
These are the three areas we want to focus on in the coming year: enhancing our reputational relationships through Board of Directors initiatives. The Eurofins Foundation "Testing for Life" opportunity is one of the many ways we can do that, as well as establishing sustainability in new membership opportunities, expanding and strengthening our relationships with sections, and providing more specific opportunities for our Board members to be engaged within each of the communities and the sections as well as the areas of expertise they are passionate about.
Safety and security are timely and critical, as shown in the last session related to the COVID-19 assays being validated through the Research Institute. We can't successfully achieve the first two objectives without the safety and security of the work that we are doing. The idea here is to expand our existing Safety Committee into a Committee of Safety and Security. There will be more to come on that, and if you are interested in volunteering for the revitalization and expansion of that committee please reach out and I'd be happy to give you more info.
I want to build upon the momentum of next year. I am confident that we are going to be able to see each other three dimensionally in 2021! With that I would like to announce two very important dates for next year: the Midyear Meeting, which is March 9-13, 2021 at the Gaithersburg Marriott Washingtonian Center in Gaithersburg, Maryland and the Annual Meeting & Exposition (which if you can believe it is the 135th annual meeting!) that will be August 27 to September 2, 2021 at the Sheraton Boston Hotel in Massachusetts.
David Schmidt, the Executive Director of AOAC, made a very compelling statement last week, when he noted that this is AOAC's second pandemic that we have survived. Despite these challenges, we continue to be creative and innovative and technically advanced – all for the sheer objective of being a leader in analytical excellence. In the opening ceremony last week, Gilles Martin of Eurofins said "There has never been a better time for innovation in testing." And after 136 years, we are still innovating technologies, we are still innovating standards, we are modernizing the way we validate methods, evolving our approach to accreditation and proficiency – all in the spirit of testing, all in the spirit of creating safer and more secure opportunities for public health.
I say we are just getting started, and I appreciate everything that all of you have done in helping to make this Annual Meeting a success. It is truly a pleasure being part of AOAC INTERNATIONAL.