August 12, 2019
After many years away, AOAC INTERNATIONAL returned to the International Association of Food Protection (IAFP) Annual Meeting in Louisville, Kentucky, July 21-23, 2019.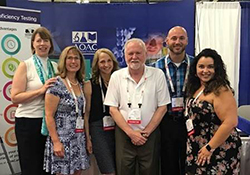 Nearly 100 individuals came to the AOAC booth to learn about membership and engagement opportunities or to meet with AOAC's Research Institute representatives about potential or current method submissions.
At the booth were Research Institute Senior Director Scott Coates, Manager Nora Marshall, and technical consultants Sharon Brunelle, Maria Nelson, Pat Bird, and Zerlinde Johnson.
"The response from exhibitors and participants was very positive," Marshall said. "That there were so many inquiries for information on programs and services from both AOAC INTERNATIONAL and AOAC Research Institute confirms that AOAC needs to be at IAFP every year."
AOAC's new Deputy Executive Director and Chief Science Officer, Dr. Palmer Orlandi, was also on hand to discuss AOAC's current scientific and programmatic initiatives in response to inquiries from laboratories, government organizations, and students.