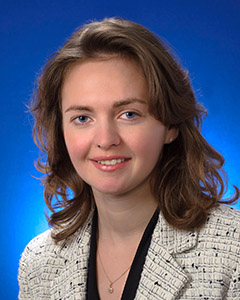 Katerina Mastovska, Ph.D. is the recipient of the 2021 Harvey W. Wiley Award, the AOAC INTERNATIONAL's highest honor for lifetime scientific achievement.
An expert in the application of gas and liquid chromatography with mass spectrometry for identifying and measuring pesticide residues and other contaminants in food, Dr. Mastovska has contributed improvements to the widely used QuEChERS analytical methodology and applications, developed new methods for analyzing veterinary drug residues and contaminants in food, implemented state-of-the-art technology for routine analytical use, and authored pioneering methodology for measuring cannabinoids in cannabis.
She is currently a Chief Scientific Officer at Eurofins US Food Division and also a Technical & Industrial Director for Pesticides within the Operational Best Practices Program at Eurofins Scientific. A member of AOAC INTERNATIONAL since 2004, Dr. Mastovska has chaired or contributed to more than 20 AOAC expert review panels, working groups, and stakeholder panels. She has collaborated on or authored five AOAC Official Methods of AnalysisSM used by scientists worldwide. In addition to numerous governmental and academic awards, Dr. Mastovska has received eight achievement awards from AOAC including the coveted Fellow of AOAC INTERNATIONAL Award. She is currently a member of the AOAC Official Methods Board, which provides guidance and oversight to the organization's process for developing validated standards and methods.
At the 2021 AOAC Annual Meeting & Exposition, on Monday, August 30, 2021, Dr. Mastovska will present the Wiley Award Address, entitled, "Addressing New and Never-Ending Challenges in the Analysis of Chemical Residues and Contaminants".
Wiley Award Address Abstract
The analysis of chemical residues and contaminants in food has seen significant developments over the years. What used to be difficult might be far easier now thanks to more streamlined or automated sample preparation and significantly improved sensitivity and selectivity of the analytical instrumentation. However, that does not mean that there are no longer challenges in routine testing of chemical residues and contaminants. With all the improvements and advancements, laboratories are being faced with ever-increasing expectations to deliver results faster and cheaper without compromising quality.
In addition, regulations are becoming stricter, leading to a need to analyze more compounds at lower levels and in a much wider scope of matrices. Also, target matrices are certainly not becoming less complex. Traditionally, analysis has been focused on major agricultural commodities and foods. Nowadays, testing laboratories have to deal with a myriad of different matrices, especially if they are testing dietary supplement products and ingredients.
AOAC INTERNATIONAL has seen a similar expansion of focus areas, including infant formula, dietary supplements, and more recently cannabis. All these sample types are highly complex and pose various analytical challenges, which need to be addressed for successful routine method performance. Technical solutions to these challenges range from various clean-up options to the use of advanced chromatographic and mass spectrometric tools. Other challenges include discovery of new and emerging contaminants and changes in regulations, which have to be addressed by the food industry and testing laboratories.
Standards-setting organizations, such as AOAC INTERNATIONAL, play an important role in these efforts, which is shown in recent AOAC projects focused on MCPD and glycidyl esters, bisphenol A, furan and alkylfurans, chlorate and perchlorate, and glyphosate.
The Wiley Award Address will focus on various challenges, some new and some never-ending, in the analysis of chemical residues and contaminants in food, infant formula, dietary supplements, and cannabis. Attendees will get an overview of strategies to address these challenges, including practical technical solutions. The address will also highlight the role of AOAC INTERNATIONAL in bringing scientists and other stakeholders together to tackle problems, translate regulations into method requirements, and produce reliable methods.