February 18, 2021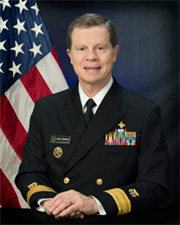 AOAC INTERNATIONAL's 2021 Midyear Meeting and Analytical Solutions Forum introduces the Global One Health Concept, a collaborative, multi-disciplinary, multi-stakeholder approach that to ensure human health we must recognize the interconnects between humans, animals, plants, and the environment. A symposium and multiple presentations will highlight AOAC's role both generally and in specific areas of urgent attention.
Kicking off the meeting will be a symposium around how AOAC's mission and globally-respected process for developing standards for foods and feeds are essential components in this growing approach to public health.
The symposium will feature Rear Admiral David P. Goldman, MD, MPH of the U.S. Food & Drug Administration's Office of Food Policy and Response.
Dr. Goldman provides medical and scientific leadership to the foods program and provides strategic guidance on medical and public health issues associated with food, dietary supplements, cosmetic products and the nutritional composition of food. He is a clinical expert on issues related to food safety and a key leader in helping the agency respond to food safety outbreak and recall events.
As Chief Medical Officer for the foods program, Dr. Goldman plays a pivotal role in continuing to advance the agency's work to improve recall efforts by co-chairing the Strategic Coordinated Oversight of Recall Execution team. Dr. Goldman's work also includes the full portfolio of work previously led by the Center for Food Safety and Applied Nutrition's (CFSAN) Chief Medical Officer. This includes providing leadership to foods program medical officers and chairing CFSAN's Health Hazard Evaluation Board, which evaluates the human health effects of physical, microbiological, chemical, or radiological contamination of food and cosmetic products.
Dr. Goldman also serves as a spokesperson on human health issues associated with food products, involving food safety, nutrition, and cosmetics. In addition, he serves as liaison to USDA in foodborne outbreak situations.
Dr. Goldman has considerable experience in issues directly relevant to these important roles. He most recently served as the Chief Medical Officer of the Food Safety and Inspection Service (FSIS), which is part of the USDA. In this role, he was responsible for occupational health issues related to chemical and biological exposures, as well as providing medical expertise on emerging food safety issues. He was Assistant Administrator for FSIS's Office of Public Health Science from November 2004 through May 2018, leading a staff of 300 that provided the scientific foundation for FSIS policies, conducted microbial risk assessments, and executed a national sampling program of meat and poultry products. In addition, at the appointment of the U.S. Surgeon General, Dr. Goldman served as the U.S. Public Health Service (USPHS) Chief Professional Officer for physicians from 2013 to 2017.
Dr. Goldman is a board-certified family medicine and preventive medicine/public health physician, and a member of the Commissioned Corps of the U.S. Public Health Service since February 2002. He spent 10 years in the U.S. Army Medical Corps, practicing both family medicine and preventive medicine. He then spent 3 ½ years at the Virginia Department of Health, first as a District Health Director, then briefly as the Deputy State Epidemiologist, before joining the USPHS and FSIS. Dr. Goldman received his Bachelor of Arts from the University of Virginia, his Doctor of Medicine from the University of Virginia. He holds a Master of Public Health in Epidemiology from the University of Washington.