January 22, 2021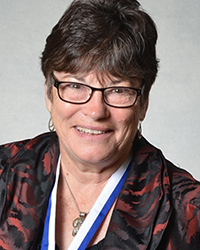 AOAC INTERNATIONAL congratulates Nancy Thiex, who has served the Association for nearly 20 years, as she steps down from her role as an AOAC Research Institute Technical Consultant.
Nancy joined the Research Institute in 2012, focusing her energies on coordinating chemistry method validation studies.
"Nancy brought a wealth of scientific knowledge and experience to her role and will be greatly missed," said Scott Coates, Senior Director of the AOAC Research Institute.
Nancy is continuing her contribution as Section Editor for the Journal of AOAC INTERNATIONAL for two sections: Animal Food, Pet Food and Plant Nutrient Methods; and Sampling Methods. Jennifer Diatz, AOAC Director of Publications, noted that "Nancy's dedication to promoting excellence in her Journal sections is exceptional. She not only recognizes the value of peer reviewed science, she has contributed countless hours to support it."
Nancy received B.S. (Mathematics), M.Ed. (Physical Sciences), and M.S. (Chemistry) degrees from South Dakota State University. After 35 years at South Dakota State University, managing an analytical service laboratory, she consulted on projects for the Association of American Feed Control Officials (AAFCO), the Association of Public Health Laboratories (APHL), and The Fertilizer Institute. She was the project manager for the development of two sampling guidance documents that received international recognition, Guidance on Obtaining Defensible Samples and Guidance on Obtaining Defensible Test Portions.
AOAC wishes all the best to Nancy in her (semi) retirement!