The AOAC Research Institute (AOAC RI) is a division of AOAC INTERNATIONAL that promotes and conducts activities to help develop, improve, and validate proprietary testing methods.
Performance Tested Methods (PTM) Overview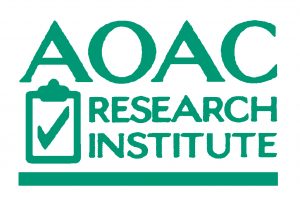 Our Performance Tested Methods (PTM) program helps companies and their customers safeguard their businesses, mitigate risk, and protect consumers through trusted, reliable testing methods and products. Search Performance Tested Methods >
The PTM program provides independent third-party review and certification for proprietary test method performance. The certification mark assures users that an independent assessment found that test method performance meets an appropriate standard for its intended use. 

The PTM program process is:
The method developer and an AOAC RI technical consultant prepare a validation outline for validation study protocols in the consulting phase.
The application is reviewed by AOAC staff.
The method developer completes its validation study.
AOAC RI selects an independent lab to complete the independent validation study.
AOAC RI facilitates expert peer review of the results of both validation studies. If approved, AOAC RI grants AOAC Performance TestedSM certification, and the organization is licensed to use the certification mark.
The certification is reviewed for renewal the following year.
Contributing Membership
AOAC created a non-voting membership category, Contributing Member, for the AOAC Research Institute. The AOAC Research Institute Advisory Council comprises representatives of the Contributing Member organizations in good standing. Join as a Contributing Member now.
Annual dues are $5,000.00 USD and benefits include:
One seat on the RI Advisory Council
$1,000.00 USD discount toward RI Consulting fees
$6,000.00 USD discount toward PTM Application fees
Discounted Harmonized Consulting
One complimentary individual AOAC INTERNATIONAL membership
For all questions, contact Nora Marshall at [email protected].