Official Methods Board Member, 2021 – 2022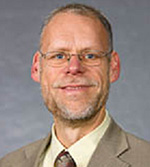 Frank Sikora is Director of Laboratories and Soils Program at the University of Kentucky, Division of Regulatory Services. The laboratories have a staff of 25 employees who test fertilizer, feed, seed, bulk milk, soil, ag lime, and hemp. Frank has been the Lab Director since 2012. Prior to that time he was Soil Test Coordinator within the Division since 1998. The Division became involved in testing hemp for Kentucky Department of Agriculture for regulatory compliance in 2017. Frank received his Ph.D. in Agronomy in 1986 from the University of Illinois and was previously employed at Tennessee Valley Authority as a research scientist prior to employment at University of Kentucky.
His areas of expertise include soil chemistry; fertilizer reactions in soil; laboratory analyses of soil, lime, fertilizer, feed, and hemp; and statistical analysis in proficiency testing programs. He received his M.S. in Plant and Soil Science from the University of Tennessee and his B.S. in Plant and Soil Science from West Virginia University.