Official Methods Board Member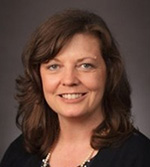 Wendy McMahon is Research Director for Silliker's Food Science Center in Crete, IL managing method validation studies and specialized microbiological and molecular solutions for food industry clients.
McMahon has been very active within a variety of industry associations and committees. Along with being a member of the Official Methods Board (OMB), she is the Co-Chair of the Expert Review Panel for Microbiology Methods, a member of the Committee on Statistics, and a Fellow of AOAC. She is chair of the Dairy Quality and Safety Professional Development Group (PDG) at IAFP, a member of MicroVal's General Committee, and a second term member of the National Advisory Committee on Microbiological Criteria for Foods (NACMCF). She has numerous publications and is a co-author of the Salmonella chapter in the Compendium of Methods for the Microbiological Examination of Foods (5th edition).