Editorial Board Past Chair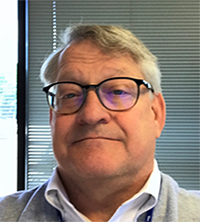 Dr. Joseph Betz's research interests lie in the areas of botanical quality and in bioactive plant secondary metabolites. He has over 100 book chapters and peer-reviewed publications. Dr. Betz is an internationally recognized expert in pharmacognosy and has traveled and lectured extensively. From 2003-2009, Dr. Betz was a member of the Expert Advisory Committee to Health Canada's Natural Health Products Directorate. He is a current member of the United States Pharmacopoeia's Expert Committee on Botanical Dietary Supplements and Herbal Medicines and of the Scientific Committee and International Advisory Board of the Hong Kong Chinese Materia Medica Standards (HKCMMS) Section of the Hong Kong Department of Health. He is also a member of NSF International's ANSI committee on dietary supplements and is a member of the U.S. Technical Advisory Group to ISO/TC 249 (Traditional Chinese Medicine).
Dr. Betz has over 30 years of work experience in public health agencies and two years of experience in the supplement industry. He is knowledgeable about food and drug law, with a focus on dietary supplement regulations and current good manufacturing practice. He spent 12 years at FDA as a research chemist, where he developed and directed a plant toxins/bioactive phytochemical research program for the identification and measurement of bioactive phytochemicals in foods and dietary supplements. A member of AOAC since 1988, he is a long time AOAC volunteer. Dr. Betz was AOAC General Referee for Plant Toxins and then Dietary Supplements from 1992-2001, a member of the editorial board of the Journal of AOAC International from 2010-2016, and the chair of the editorial board from 2016-2020. He is a current member of the TDRM Executive Committee. Dr. Betz is a Fellow of AOAC INTERNATIONAL and the recipient of the AOAC's TDRM Award and Harvey W. Wiley Award, the American Botanical Council's Norman R. Farnsworth Award for Excellence in Botanical Research, the American Society of Pharmacognosy's Tyler Prize, and the American Herbal Product Association's Herbal Insight Award for Contributions to the Botanical Sciences, and the 2021 Natural Health Products Research Society of Canada's G.H. Neil Towers Award.