Editorial Board Member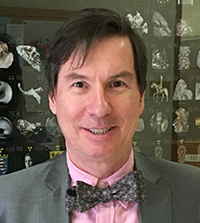 Professor Peter de Boves Harrington graduated from Randolph-Macon College in 1980 with a Baccalaureate of Science in Chemistry. After, he worked as flavor chemist for Nabisco from 1980-1982. He has always maintained his interest in the analysis of foods and beverages. At Nabisco, he had two mentors, Bill Softly who directed Pete towards chemometrics and Lucy Gursky who encouraged Pete to pursue a PhD. In 1988, Pete graduated from the University of North Carolina-Chapel Hill. His PhD dissertation is titled "Applications of Pattern Recognition and Artificial Intelligence to Some Problems in Analytical Chemistry," written under the mentoring of Tom Isenhour.
From 1987-1989, Pete created the DOS-based software platforms Resolve and Presager for identifying bacteria from their pyrolysis-mass spectra while working for Kent Voorhees at the Colorado School of Mines. Pete joined the faculty of Ohio University (OHIO) in 1989 as an Assistant Professor. He has over 200 publications and has made over 300 scientific presentations including many plenary and keynote speeches around the world. In 2016, Pete won the OHIO College of Arts & Sciences Outstanding Faculty Research Award. In 2019, he received the Eastern Analytical Symposium Award for Outstanding Achievement in Chemometrics and was recognized as an OHIO Presidential Research Scholar. Pete was recognized as a Fellow of the American Academy of Forensic Sciences in 2015 and a Fellow of the Society for Applied Spectroscopy in 2020. Currently, Pete's research focuses on the development of automated chemometrics and machine learning algorithms to solve problems in forensic identification and food safety.