January 19, 2022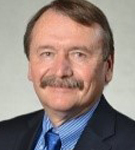 Darryl M. Sullivan, Chief Science Officer at Eurofins Scientific, has been selected as a recipient of the William Horwitz Award. This award, established in 1995 in honor of Dr. Horwitz's lifetime of accomplishments and dedication to the Association, is the highest volunteer award bestowed by AOAC. Horwitz Award winners have contributed a sustained effort that includes innovations to enhance the Association's value to members, and have nurtured and inspired future AOAC leaders. Darryl is just the fourth winner since the award was established.
Darryl has been a member of AOAC for more than 40 years and has diligently served AOAC throughout those years. He is a past President of AOAC and has served on the Board of Directors as Secretary and Director-at-Large. He is also a past chair and member of the AOAC Official Methods Board. He has chaired many AOAC committees, panels, and task forces, including the Method Committee on Commodity Foods, Stakeholder Panel (now Program) on Infant Formula and Adult Nutritionals, Presidential Task Force on Dietary Supplements, Stakeholder Panel on Dietary Supplements, Nutrition Labeling Task Force. His leadership contributed to more than 50 approved infant formula methods and 15 approved dietary supplement methods.
Darryl has represented AOAC around the world, attending international AOAC Section meetings and presenting on behalf of AOAC at international conferences. He has also served as head of the AOAC delegation to Codex CCMAS and Codex CCNFSDU.
Darryl has chaired or participated in more than 35 AOAC Expert Review Panels, published research in and served as an expert reviewer for the Journal of AOAC INTERNATIONAL, and has been a member of the AOAC Past Presidents Council, Global Advisory Council, Programing Council, Committee on Safety, Long Range Planning Committee, and Committee on Sections, among other initiatives. He was named an AOAC Fellow in 2002.
Darryl's contributions indicate a great dedication and diversity of service to the Association. Many of the accomplishments AOAC has made in dietary supplements and infant formulas are attributable to his leadership in those areas. Additionally, his international leadership has helped to reestablish AOAC's reputation for analytical expertise within the Codex community. He has certainly made an exceptional impact on AOAC.