March 27, 2020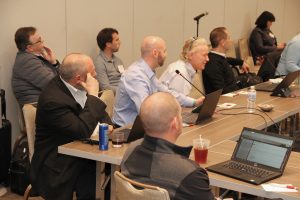 During the AOAC INTERNATIONAL 2020 Midyear Meeting, the Working Group on Quantitative Microbiology Method Validation Acceptance Criteria, chaired by Patrick Bird of PMB BioTek Consulting, finalized a Standard Method Performance Requirements (SMPR) document outlining acceptance criteria for the validation of quantitative microbiological methods.
The SMPR establishes acceptance criteria for evaluating a quantitative candidate method against a reference method in an AOAC Research Institute Performance Tested Method, or Official Methods of Analysis validation study.
Current guidelines for validating microbiology methods (AOAC Appendix J) present requirements for design validation studies for quantitative methods, but the guidelines do not include acceptance criteria for these validations. When reviewing methods, AOAC Expert Reviewers and the Expert Review Panel on Microbiology methods struggled to keep consistency in evaluating methods and requested that a working group be created to establish acceptance criteria.
Due to travel restrictions, stakeholders were not able to approve the SMPR; however, the attendees advanced the draft SMPR to be sent to the community with an e-ballot.
In a separate session, the AOAC Expert Review Panel for Microbiological Methods for Food and Environmental Surfaces, cochaired by Michael Brodsky of Brodsky Consultants and Wendy McMahon of Mérieux NutriSciences, granted Official Methods of Analysis First Action status to two Salmonella methods, one by GENE-UP® and a second by Solus One.
The GENE-UP® Salmonella method, detailed in a paper entitled "Evaluation of the GENE-UP ® Salmonella Method for the Detection of Salmonella Species in a Broad Range of Foods and Select Environmental Surfaces: Collaborative Study" is a real-time PCR assay that utilizes a dual Fluorescence Resonance Energy Transfer hybridization probe. The method combines the detection of real-time amplification curves and melt peaks to determine positive or negative results.
The Solus One Salmonella method, detailed in "Evaluation of the Solus One Salmonella Assay in Select Foods: Collaborative Study," is an immunoassay that uses Salmonella-specific selective media and an automated liquid handling procedure. Both papers will be published in the Journal of AOAC INTERNATIONAL and the methods will be added to the AOAC Official Methods of Analysis.
For more information, contact Deborah McKenzie, AOAC senior director of Standards and Official Methods, at [email protected].