May 21, 2020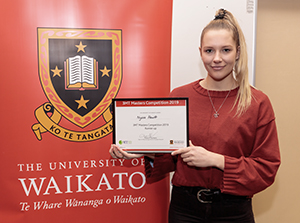 AOAC INTERNATIONAL is pleased to announce that Nyssa Hewitt, an analytical chemistry student at University of Waikato in New Zealand, has been selected as the winner of the 2020 Harvey W. Wiley Award Student Scholarship.
Nyssa was selected based on her passion for analytical science, as demonstrated by her educational trajectory and her current Master's Degree research project on the structural determination of an unknown novel natural compound.
Nyssa was raised in Morrinsville, New Zealand, and credits a "fantastic" high school teacher for inspiring her to pursue chemistry. Following high school, Nyssa earned a Bachelor of Science (Technology) at the University of Waikato, majoring in Chemistry and minoring in Ecology and Biodiversity. While completing an industry placement at TATA Global Beverages in London, she gained a passion for analytical chemistry, developing methods for the analysis of vitamins in non-alcoholic beverages (e.g., tea and coffee). She was also able to build her skillset in a research and development laboratory setting.
Returning to New Zealand for her final undergraduate year, Nyssa worked part-time in a commercial laboratory analyzing various water samples (e.g., environmental water samples and effluent). Subsequently, she returned to research at the University of Waikato, working with numerous industries on a range of matrices (e.g., bee products and plant material). An industry she worked with during this period resonated with her interests in the pharmaceutical industry, and was instrumental in the design of her current Master's Research project.