Director, 2023 – 2024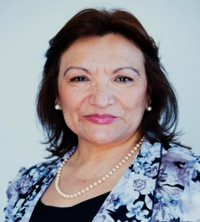 Nuri Gras Rebolledo has a degree in Chemistry from the University of Chile, a diploma in Innovation and Technological Management Business and a Master of Science in Food and Nutrition, mention Healthy Food of the Institute of Food and Nutrition (INTA)/University of Chile. She has held positions as scientist and as manager in government and private organizations. Her core expertise is Metrology in Chemistry applied to food analysis, developing Reference Materials and Proficiency Test Programs as scientist in the Chilean Nuclear Energy Commission, including training period in these topics in Israel, Finland, USA (NIST), Denmark, Germany, Belgium, IAEA, Vienna, Austria and others. She has served as an expert in several countries in Latin America and the Caribbean, for the IAEA, FAO and PAHO as food safety and quality consultant for the region. She was the President of AOAC Latin America and Caribbean Section during two different periods and organized high-impact scientific events including the AOAC Latin American–Caribbean Section in 1999 and 2012.
In the private sector, she was the Manager of Innovation and Technology of Labser Lab, responsible for the implementation of the laboratory for pesticides residues in fruits and vegetables (HPLC and GC-MS/MS) and the laboratory for detection of dioxins in feeding stuff. Also, she was responsible for the automation of the Microbiology Laboratory.
Nuri is the Lead Trainer for FSMA Regulations, Preventive Control in Human Food, Verification of Foreign Suppliers, and Produce Safety since 2012. For four years, she served as the Executive Secretary of the Chilean Food Quality and Safety Agency. In this position she represented Chile in different international forums and was the President of the Chilean CODEX Committee. She also represented Chile in the GFSI International Forums, in IUPAC, APEC, and others. In this position, she was also responsible for the National Scientific Network in Food Quality and Food Safety and the National Food Quality and Food Safety Laboratory System.
She is currently Director of the consulting company Nuri Gras Food Integrity and Technical Business Manager of the company Rubio y Gras Ltd., dedicated to delivering metrological solutions to analytical laboratories.
In the academic sector, she is Associate Professor at the Faculty of Chemical and Pharmaceutical Sciences of the University of Chile, where she is the leading researcher of a research contract with the International Atomic Energy Agency, (IAEA) on the subject of Food Authenticity.