Director, 2023-2024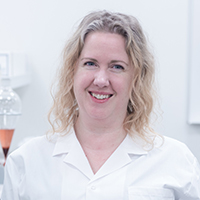 Canada Research Chair, Phytoanalytics
Director of Applied Research, Natural Health & Food Products
BC Insitute of Technology, http://www.bcit.ca/appliedresearch/nrg/
Adjunct Professor, Department of Biology, University of British Columbia
Visiting Professor, Hunan University of Chinese Medicine, Changsha, China
Expert Advisor, Botanical Dietary Supplements & Traditional Medicine, USP
Paula is an internationally recognized natural products chemist who has long excelled in the development and validation of analytical methods, establishment of quality standards, regulatory compliance, product development, plant metabolomics, and chemometrics. As Director of Applied Research for the British Columbia Institute of Technology's Natural Health & Food Products Research Group, her research focus is on the basic and applied science underlying natural health product (NHP) quality and the roles they play in human health, wellbeing, and society.
Given the phytochemical complexity of botanical-based health products, Paula has worked on developing analytical approaches to tackle issues related to quality, authenticity, and safety using advanced analytics and chemometric models. Her research program at BCIT has contributed to nine AOAC International Official Methods of Analysis related to dietary supplements and food. A long-time AOAC member, Paula has chaired and served on numerous AOAC Expert Review Panels (ERPs), served six years as General Referee of the AOAC Official Methods Committee for Dietary Supplements and contributed to various AOAC task forces and working groups and served on the editorial board of theJournal of AOAC INTERNATIONAL.  Paula is current section editor for dietary supplements and natural products for the Journal of AOAC INTERNATIONAL.
Paula began her career at BCIT more than 20 years ago, where she established her research program and led projects on health policy, regulatory affairs, product formulation, botanical authentication, analytical method development & validation, applied chemometrics, bioanalysis, and therapeutic monitoring. She received her Bachelor of Science with Combined Honors in Biochemistry and Chemistry from Dalhousie University, Master of Science in Natural Product Synthesis from Simon Fraser University, and PhD in Natural Product Chemistry from the University of British Columbia. Paula holds the Canada Research Chair in Phytoanalytics and serves as an Adjunct Professor in the Department of Biology at the University of British Columbia and a Visiting Professor at the Hunan University of Chinese-Medicine.
An active volunteer, Paula co-chaired Health Canada's Scientific Advisory Committee on Health Products Containing Cannabis, is an Advisor to the American Botanical Council, the American Herbal Pharmacopeia and the USP Expert Committee for Botanical Dietary Supplements and Traditional Medicines and is a member of NSF's Joint Committee for Dietary Supplements, which she chaired from 2007-2018. She is a founder and previously served as President of the NHP Research Society of Canada, inaugural member of the U.S. National Institutes for Health's Product Integrity Working Group, policy advisor on the NHP Program Advisory Committee for Health Canada, and Chair of Health Canada's Working group on Standards of Evidence for the Quality of Natural Health Products.
Paula received the AOAC International Harvey W. Wiley Award in 2022 and was awarded the Norman R. Farnsworth Excellence in Botanical Research Award from the American Botanical Council in 2021. She also received the 2019 Waters Award for Innovations in Natural Product Research presented by the American Society of Pharmacognosy, the 2016 Neil Towers Award presented by the NHP Research Society of Canada, the American Herbal Products Association's 2016 Herbal Insight Award, the 2011 Richard E. Schultes Research Award from Economic Botany, and the 2013 and 2020 Thieme Award Planta Medica Most Innovative Original Paper. Paula is the author or co-author of more than 85 peer-reviewed publications, book chapters, and monographs on aspects of analytical method development, quality assurance, and the chemical constituents of commercially important botanicals.