September 17, 2021
The AOAC Research Institute (AOAC RI) will begin accepting applications for the Reviewed and Recognized SM (R2) program on October 1, 2021. The R2 program is designed to evaluate performance claims on "application notes", or instructions for use that describe how an instrument or analytical equipment can be used to detect, quantify, or identify specified analytes in matrices. Functionally, the R2 program will operate similarly to the AOAC RI Performance Tested Methods (PTM) program.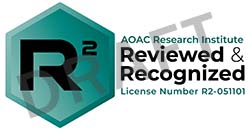 Using in-house, on-site, and/or independent laboratory-generated data, technology providers will be required to demonstrate that the submitted application note and/or instrument component or platform are fit-for-purpose and provide accurate and reliable analytical results. Following a formal peer review process, approved application notes will be licensed to use an R2 certification mark (draft example is shown here). Additionally, approved application notes and supporting data will provide accredited analytical laboratories with a simple way to demonstrate their methods are fit-for-purpose.
When the program launches, AOAC RI will accept the first 10 applications in order to ensure adequate staff and technical consultant support for timely application review and processing. Additional applications to the program will be considered and accepted after processing of the initial group has been completed. 
The AOAC RI is offering an introductory cost of $10,000 per application until April 1, 2022. On April 1, 2022, application pricing will align with the PTM pricing scheme.
For more information, contact an AOAC Technical Consultant or Scott Coates, Senior Director, AOAC Research Institute at [email protected].