November 21, 2019
Following their highly-successful Second Annual Meeting, Sub-Saharan Africa Section President Owen Fraser, Ph.D. talked with AOAC about how the section is advancing food safety testing in the rapidly-expanding pan-African trading bloc. Dr. Fraser is a Senior Specialist at Nestlé Research Centre in Switzerland.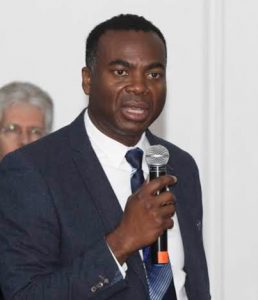 What was the value of the second Sub-Saharan Africa Section meeting?
This was our second meeting, and our goal was to make it relevant for the issues within the region.
I think the meeting was very valuable in highlighting the importance of testing correctly, using the right methods in testing. I think it also highlighted the importance of harmonizing testing standards as a basic prerequisite to improving trade both internally within the continent and externally outside of the content, and for trading of safe foods. Those were critically important for us to highlight to our stakeholders and those who are listening to what we do.
It was important that participants be able to take away and use what they learned at the meeting to improve the quality of testing in their own facilities. And in the case of regulators, we emphasized things they need to take into consideration when they are developing regulations on food commodities.
Were the right stakeholders at the meeting?
Yes, we had the right stakeholders. The event is receiving a fair bit of publicity as well, so there will be some local press on what the Section is doing and how the Section is bringing about improvement in testing standards in the region and a strong message on us being a Section that supports the development of young scientists.
How would you characterize the analytical science situation in Sub-Saharan Africa?
There's a lot happening on the continent in food safety and development of agriculture and trade. The Intra-African Continental Free Trade area will bring a rapid increase in trade of food, but also create challenges between countries, because the infrastructure for testing is quite underdeveloped.
You have countries like South Africa with a better infrastructure, perhaps also Nigeria to some extent. But other countries, like Sierra Leone, Senegal, Cameroon, even Ghana, don't have the same level of infrastructure. You can imagine them exporting their food into South Africa; tests done in a lab in Senegal will not be accepted by the authorities in South Africa.
We did a survey last year, quite a big study covering about 17 countries, where we asked our members about the state of their testing infrastructure. The feedback paints a very interesting picture.
In some countries you have labs that are well equipped, using advanced techniques and international official reference methods. In other countries, they're really struggling to have basic proficiencies in the labs. About 40 percent of the labs who responded indicated that they are participating in proficiency testing, but how frequently they are participating is questionable.
Even within countries with a well-developed testing infrastructure, performance is quite varied. Everyone is doing their own thing, using different methods to test the same things, and there is not so much compliance verification from the regulatory bodies because quite often, government labs are less well equipped.
You have approximately 80 percent of our survey respondents using official methods, and many are actually AOAC methods, so we are well represented here. But once you dig deeper, you find that in many cases the methods being used are either not the most up to date or have not been validated for the matrices they are testing.
Even in countries where they have developed infrastructure you find this. For example, over this last year we've worked on the testing methods for sodium. With a proficiency test conducted by the National Metrology Institute of South Africa, the respondents were using methods recommended by the Sodium Reduction regulations, some labs used methods that measured sodium chloride, not sodium.
So there is a lot of work for us to do, working with labs that are basically starting from scratch, as well as more advanced labs that require a bit more capacity to improve testing.
Are you getting buy-in, seeing enthusiasm for what the AOAC Sub-Saharan Africa Section is doing?
Absolutely. Since we started last year, we've increased our membership quite significantly. We are now at around 369 members. All the people we've encountered see the importance of what we are doing to improve the quality and reliability of testing, which has a huge impact on trade.
We are engaged with the African Union, both in the Department of Rural Economies and Agriculture, and with the trade commission. We have been invited to establish collaborations with the Pan African quality infrastructure organizations, such as the African Standards Organization, the African Organization for Standardization, and AFRIMETS, which is the Intra-African Metrology System organization.
They see AOAC playing a critical role in providing technical and scientific advice on analytical standards development, especially since for many of the commodities being traded internally, there are no international official methods validated for many of those matrices. So here is an opportunity for AOAC to extend the scope of existing methods, where possible, or develop new methods where necessary.
I think as AOAC we in a unique place within the region because no one else is there. And what gives a lot of satisfaction is that when you visit some government analysis labs, one of the things they have a lot of pride in showing you is this large bookshelf with the AOAC manuals. This is great, but often many of those methods are obsolete and they should be doing a bit more to get the most recent methods.
We are also being invited to give advice on the recently launched African Food Safety Index, mandatory for members of the African Union. They have recently established the Africa Food Safety Agency, which is going to be an advisory body to all governments within the continent on matters concerning food safety, developing local food safety policies and harmonizing policies.
We were invited to provide advice on what is required to improve the testing infrastructure, and what key performance indicators should be used to measure how well countries are investing in developing their testing infrastructure. In addition to that, we have participated in the first World Health Organization Food and Agriculture Organization's International Food Safety Meeting. I was there giving a talk on the state of the testing infrastructure in Africa, and how AOAC can play a role in improving the quality of testing and the reliability of testing results.
What is at stake for Sub-Saharan Africa at an international level?
Testing plays a key role in international trade. Last year in June at the Africa Food Safety Meeting in Pretoria, it was the first time we had a platform to promote AOAC and the AOAC Section for participants from all over Africa.
One of the participants shared with me his experience exporting to Germany. He had a certificate of analysis showing that he complied with regulations. But when his several tons of peanuts arrived in Germany, authorities found extremely high aflatoxin contamination, well above what was acceptable.
His question was, "How can I ensure reliability of tests I have paid for?" The answer clearly was that there was not a way of verifying the reliability of that result. Because although the lab was an ISO certified lab, was the method being performed right on that particular day? Were they using the right methods? There are lots of situations where result from certificates of analysis are not representative of reality, and exporters sending products abroad see them rejected.
When that happens, there is a loss of trust. But there is also significant damage to the local economy. In most developing countries, you have a large number of smallholder farmers. An aggregator will buy commodities from someone who has one acre, 10 acres, 50 acres. And if he cannot sell the product, he cannot pay those farmers. That has a huge impact on whether someone can send their child to school, or must keep children working on the farm. So reliable results from testing has a huge impact further upstream.
You mentioned that methods don't yet exist for some products and matrices. Can you give some examples?
One of the foods that is quite highly consumed in the region is fermented products of cassava. In West Africa, Ivory Coast, Ghana, Liberia, even in Chad, they use a fermented product called Attiéké. You wouldn't find any methods at all on that. The risk with such products is the presence of cyanide, cyanogenic glycosides, and it has been known to result in death, especially in children who consume it. At our meeting, one of the areas we focused on was the challenge in testing some of these traditional foods, which are going to become more widely consumed with the opening up of trade of these commodities.
We have some other pulses that are quite unusual, some have very high fat content, like Akpi in West Africa and pigeon peas, which are a staple in some countries, Malawi for example. One of the scientists who presented at the meeting showed that the levels of mycotoxins in pigeon peas was very high in his country, therefore there was high exposure. This material is likely to be traded more widely as well, but there are no valid methods for them. There are a number of other indigenous foods that there aren't any methods for at all.
What do you see in the future of the Sub-Saharan Africa Section?
For us to be successful, we must make sure our activities align with the needs of the region. We have the main priorities: One is capacity building, training, and education on analytical methods. We focused two days at the meeting on the fundamentals of method validation and method verification, sampling, getting the community to recognize the importance of the environment in which you conduct the tests. It's not just about the equipment you buy, the equipment must be able to function reliably.
Another priority is analytical methods harmonization and method alignment, sharing analytical methods within our communities so we can agree on what methods are fit for purpose, identifying method development needs and capacity building needs, and improving overall laboratory standards and performance.
On important initiative is facilitating sharing of analytical methods, to help labs that would like to implement, say, a method for measuring mycotoxin in maize but are not sure which method is fit for purpose. They can go on the digital platform linked to our website and search for maize aflatoxin and they will find official methods that have been validated for that matrix.
Similarly, a manufacturer can use the platform to find out what analytical method is being used in South Africa to measure aflatoxin M1 in milk…because maybe he's a milk producer and he wants to make sure there is no risk of dispute from using a method that is very different from what the authorities are using and perhaps not producing similar results. We are removing the secrecy around what method people are using, getting them to talk more.
For capacity building, this year we introduced a laboratory mentorship program that will utilize the collective expertise in our network, and hopefully beyond our regions to a global network of experts within AOAC as well. The goal is to work with individual labs to help them implement the methods, all the way through to accreditation.
As part of this technical assistance, we do require a leadership commitment to provide a budget for training, for maintenance, and so on so the assistance we give them is sustained.
We are also rolling out a pilot train-the-trainer capacity building program with our partners Waters Corp, University Laval, USAID and AUC-DREA in which we will be training analysts on priority areas for example mycotoxins, veterinary drugs and pesticides methods which they will implement in their respective labs. The countries selected to benefit from this training are Ethiopia, Zimbabwe, Senegal and Egypt. This train-the-trainer program is complementary to the laboratory mentorship program.
One more initiative that is a priority for us is developing young scientists in the region, allowing young scientists a platform so they can showcase their work, and supporting them so that they can showcase their work internationally. This year, for example, we have five young scientists who presented at the meeting, and we awarded one with the Young Scientist Award. We are also providing mentoring to make sure these young scientists continue their work.
How can the AOAC INTERNATIONAL community support the Sub-Saharan Africa Section?
AOAC can assist us by supporting experts to participate in our meetings, providing training wherever possible and necessary, and allowing and encouraging a pathway where local experts can become part of this international group of experts. This will have a knock-on effect on our local experts as well, because they can grow within the organization. What would also help would be subsidizing one or two of our young scientists to attend the AOAC Annual Meeting, get exposure to the community and grow.
Last year AOAC INTERNATIONAL had some discussions that really improved benefits for our members. We are very, very fortunate that AOAC INTERNATIONAL is providing us with a lot of support and we look forward to this continued support. Of course, funding is always a bit of a challenge, especially with a startup, so support for our officers to attend international meetings could really go a long way for the Section.
What can individuals do to help?
We would welcome individuals interested in getting involved in any of the programs we are rolling out. We are developing on a very meager budget, so funding support could be of tremendous benefit for our Section. We invite people to share their knowledge in any way that could benefit to our members…providing training materials, attending our meeting, participating in a webinar to share knowledge on a particular area that might be important for the region moving forward.
What organizations do you work with?
We are engaging the Department for Rural Economies and Agriculture who has recently implemented the Africa Food Safety Index in several countries and is facilitating the discussion around the establishment of the African Food Safety Agency. This organization will be really driving the discussion around harmonization of testing standards, working with local governments and building policies that make sure they are speaking the same language. But of course, there is also the African Standards Organization and AFRIMETS, that has the legal authority on this, and they are very keen to drive harmonization of testing standards. There is still a lot of discussion on how this organization should function, but what is important for us is that we are being invited to be part of the discussion.
How do you see the cross pollination that can happen between the Sub-Saharan Africa Section and the international organization?
We have now publicized the new benefits for Section members, and we have had quite good buy in so we will see significant increase of members coming out of the region, becoming part of AOAC INTERNATIONAL.
For our members, the benefit of being part of AOAC INTERNATIONAL is having access to the AOAC Journal as well as the online methods, which we have a special arrangement for. This is an absolutely huge benefit to them. In fact, in the past that has been the challenge for many labs: finding the resources to actually pay for the methods. So this provides them with a huge benefit.
I think they also feel much more connected to the international community, so they feel that it is their organization, that they are part of the wider network rather than being in the Section which is an arm of it. It also gives more credibility to the Section itself, because the members as well as our stakeholders see that the Section is an important component of International, and is not separate from it. This gives a lot of value to the Section and to stakeholders in the area.
One of the benefits we bring also, of course we bring our membership, but we also bring opportunities for AOAC to expand the scope of testing standards, because we have a lot of materials for which there are not testing standards anywhere. This will enrich the diversity of testing standards available through AOAC. And this is a clear benefit.
It seems like we are on the verge of making something really important happen in the region.
I feel the same way and am quite passionate about it. I must say our members are perhaps twice as passionate as I am. This is excellent, I see the organization continuing to grow. But we must make the organization relevant for our stakeholders and our members. Really tackling the issues and being part of the solution moving forward.