November 21, 2019
Just one year ago, the Sub-Saharan Africa Section of AOAC was a fledgling organization. This month, their highly successful second Annual Meeting demonstrated that they have already become key players in a region where expanding trade is driving a new commitment to food safety testing.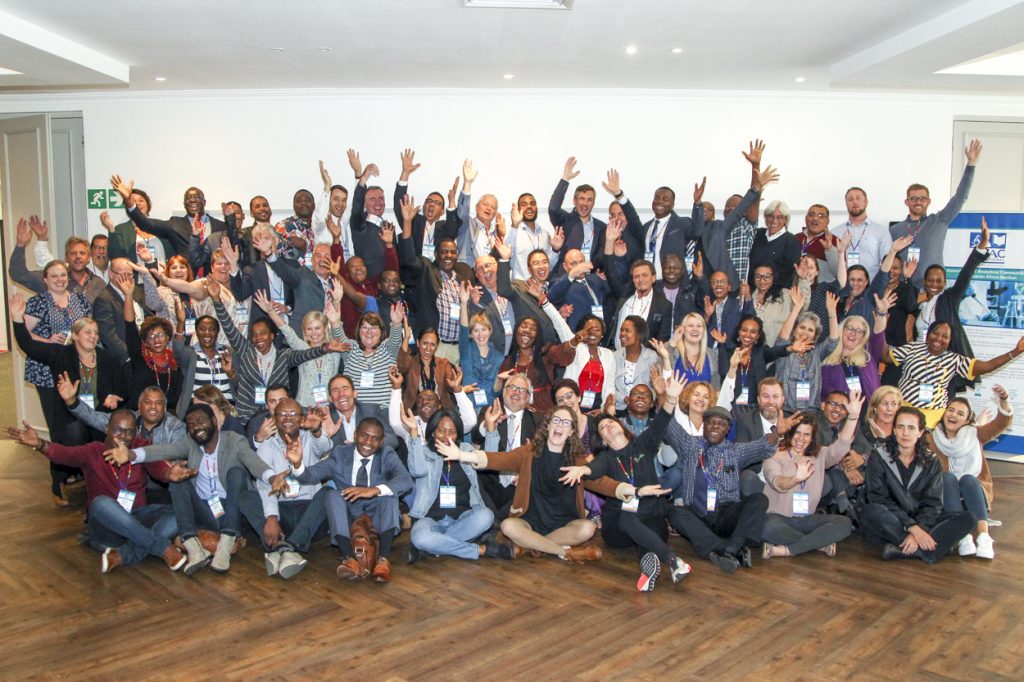 In addition to approximately 350 members, the November 5-8, 2019 meeting in Cape Town, South Africa welcomed 110 delegates, 18 exhibitors, and 44 speakers. Seventeen countries were represented, including 10 universities (three from Africa – Botswana, Nigeria, Kenya) and 49 corporate/government organizations.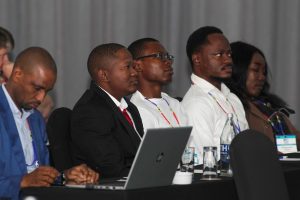 "All the people we've encountered see the importance of what we are doing to improve the quality and reliability of testing, which has a huge impact on trade," said Owen Fraser, president of AOAC Sub-Saharan Africa Section. Read the Q & A with Dr. Fraser >
The 2018 formation of the Intra-African Continental Free Trade area, which includes 54 of the 55 African Union nations and requires members to remove tariffs from 90 percent of goods, will bring a rapid increase in trade of food. But it is also creating challenges due to enormous disparities in food testing infrastructure. In some countries, labs are well equipped, using advanced techniques and international official reference methods. In others, labs are struggling to achieve basic proficiency.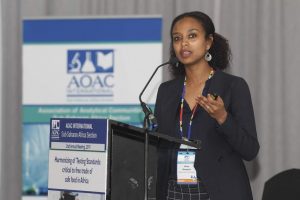 The Sub-Saharan Africa Section has already established itself as a key player in the region and has been invited to collaborate with numerous pan-African quality infrastructure organizations such as the African Organization for Standardization (ARSO) and Intra-African Metrology System (AFRIMETS). These organizations see AOAC playing a critical role in providing technical and scientific advice on analytical testing standards, especially since for many of the local food commodities now being traded beyond national borders, there are no international official methods validated for many of those matrices.
The Annual Meeting was geared to the unique issues in the region, emphasizing practical take-aways attendees could use to improve the quality of testing in their own facilities. It kicked off with a 2-day pre-conference program on the fundamentals of method validation and the essentials of method alignment and harmonization. The meeting also included a young scientist presentation session, chaired by Vallerie Muckoya, Ph.D., a student at the University of Johannesburg Chemical Sciences Department and the first Young Scientist Scholarship recipient at the inaugural Section meeting in 2018. "The interactions with the people from industry with all the organizations/ companies represented opened my eyes to the opportunities available," said Mukoya. "Being selected by AOAC Sub-Saharan Africa gave me lots of confidence that I can achieve so much more and have a positive impact."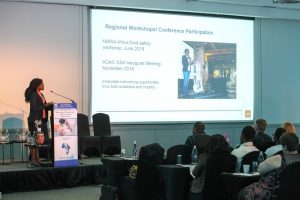 Five students from different universities were represented, and the best Young Scientist presentation was awarded a trophy and full sponsorship by Perkin Elmer. It will enable the winner to attend and present at an international conference, while being an ambassador of the AOAC Section.
Now at 358 members, over the past year the Section has put in place key elements for sharing information, encouraging promising young scientists, and supporting laboratories. The meeting showcased several of these initiatives, including the launch of the Digital Analytical Methods Sharing Platform, presentation of the soon to be published white paper on the analytical methods used to verify compliance of sodium in foods, a Scholarship funding program to assist and support student members to attend international conferences and represent the AOAC-SSA on a global scale, and a laboratory mentorship program to provide technical assistance, training, and capacity building in four laboratories in Africa annually.
The next Sub-Saharan Africa Section meeting will be held in October 2020 in Johannesburg, South Africa.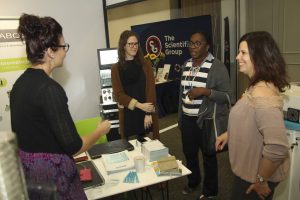 "We are very, very fortunate that AOAC INTERNATIONAL is providing us with a lot of support and we look forward to this continued support," said Fraser, adding that the Section invites the international AOAC community to get involved. "I'm quite passionate about what we are doing. And our members are perhaps twice as passionate as I am! But we are working on a very meager budget and require every possible assistance to continue to contribute the quality of testing in the region."