December 19, 2019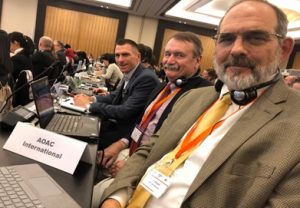 November saw AOAC's contribution to international standards grow as seven methods were recommended for adoption by the Codex Alimentarius at the 41st Session of the Codex Committee on Nutrition and Foods for Special Dietary Uses.
A program of the Food and Agriculture Organization of the United Nations, Codex promotes the safety, quality and fairness of international food trade, and its standards are recognized by 180 countries by statute.
"These methods passed with only minor discussion – we had a very good showing," said Darryl Sullivan, AOAC's international engagement delegate to the meeting. "This continues to place AOAC front and center on an international stage." The November 24–29 meeting in Düsseldorf, Germany was also attended by AOAC's Chief Scientific Officer Palmer Orlandi and Industry Representative Dustin Starkey of Abbott.
Following a plenary that included 120 countries in one room, the AOAC delegation ushered their methods through examination by a working group, a report out to the plenary, and subsequent recommendation to the Codex Committee on Methods of Analysis and Sampling (CCMAS) for consideration at their next meeting.
Seven of the methods under consideration originated in AOAC's Stakeholder Program for Infant Formula and Adult Nutritionals (SPIFAN) program. The review recommended approval of six of these methods as Type II methods and one as Type III:
CCNFSDU recommended – Type II methods
AOAC 2015.14 / ISO DIS 21470 – B Vitamins
AOAC 2015.10 / ISO DIS 21468– Choline and Carnitine
AOAC 2016.14 / ISO DIS 22579 | IDF 241 – Fructans
AOAC 2016.13 / ISO 23443– β-Carotene and Lycopene
ISO DIS 23305 – Biotin (AOAC 2016.02 already endorsed)
CCNFSDU recommended – Type III method
AOAC 2011.14 / ISO 15151 |IDF 229 – Minerals
CCNFSDU recommended for FUF – Type II method
AOAC 2015.09 / ISO 21446 – Vitamin K (already in infant formula)
The Committee also recommended AOAC 2017.16 / ICC 185 – Total Dietary Fiber to replace AOAC 2009.01 / AACC 32-45.01 as a Type I method. With AOAC's agreement, a method on gluten was pushed back for later review.
In addition to the successful adoption of these methods, the AOAC delegates identified several infant formula analytical gaps where AOAC can potentially contribute, including nitrogen to protein conversion factors and test methods for "sweetness." Sullivan concludes, "Our footprint continues to grow internationally, with a huge and positive impact for our stakeholders."
The next Codex CCMAS meeting will be held May 11-15, 2020 in Budapest, Hungary.