November 19, 2019
---
Event overview: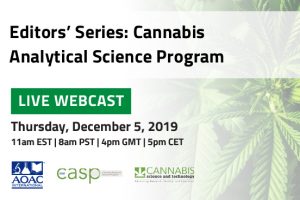 Cannabis is a complex matrix to analyze, leading many laboratories across the country to ponder how to handle the samples that are coming in. Without federal oversight, there were no standards or methods for everyone to follow. To help solve this problem, AOAC INTERNATIONAL launched the Cannabis Analytical Science Program (CASP) in early 2019 to provide a forum for the development of standards and the adoption of Official Methods of Analysis.
AOAC has teamed up with Cannabis Science & Technology magazine to offer this live webcast reviewing the CASP program objectives, 2019 accomplishments, and plans for 2020 from the CASP Program
Lead and the three working group chairs.
Presenters include Julia Bramante, Lead Scientist at the Colorado Department of Public Health and Environment; Holly Johnson, Chief Science Officer at the American Herbal Products Association; and Susan Audino, chair for the Chemical Contaminants in Cannabis working group. Following the presentations, CASP Lead Scott Coates and moderator Meghan L'Heureux of Cannabis Science & Technology will take questions from attendees.
For questions, please contact Kristen Moore: [email protected]