March 27, 2020
The 2020 Midyear Meeting overcame unexpected challenges to successfully advance the dialogue and science around emerging issues, food authenticity, cannabis testing, vaping, and more.  Thirteen new Standard Method Performance Requirements (SMPRs) related to infant formula, cannabis, and microbiology were discussed and 12 approved to move to the next step of a final ballot, and two new methods were approved. While several speakers participated remotely due to coronavirus-related travel restrictions, all programs achieved their goals for advancing both the scientific standards and the dialogue the food safety testing community relies on.
Town Hall on Vaping: A compelling case for analytical science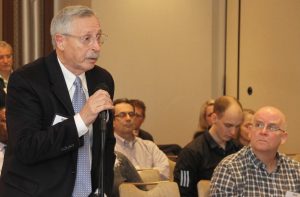 Despite their growing acceptance, relatively little work has been done to characterize the vapor from vape devices, as opposed to the liquid or the cartridges employed. At the Midyear Meeting, presentations and a discussion forum provided an opportunity to examine AOAC's potential role in testing vaping products. Four experts shared their experience with the issues around testing vape products and made a compelling case that analytical science is essential to ensure these devices are safe. Read more >
Cannabis programming: USDA update on Farm Bill, two new SMPRs, and new Training & Education Working Group
Cannabis programming at the Midyear Meeting covered a lot of ground. AOAC's Cannabis Analytical Science Program (CASP) session kicked off with an update on the domestic hemp program by the U.S. Department of Agriculture's Kerry Smith, Director of the Laboratory Approval and Testing Division, Agricultural Marketing Service.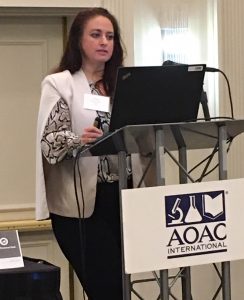 The session continued with presentation of three SMPRs that have been in development by CASP working groups since September of 2019. Two of the SMPRs, one for Salmonella and one for heavy metals, were approved with some changes. Due to travel restrictions, the quorum participation needed for consensus-based approval was not reached at the meeting, so attendees voted to send the two SMPRs to the wider CASP community for an e-ballot vote.  A third SMPR, for determination of moisture content in cannabis and hemp, was returned to the working group for further work.
A CASP Expert Review Panel considered candidate methods for detection of residual solvents in cannabis derived products and for cannabinoids in hemp by dry weight, but more time is needed to move these forward.
Finally, the Midyear Meeting saw the launch of the new CASP Education & Training Working Group, which will suggest solutions for sharing information and training within the scientific community.  Read more >
To receive information on AOAC CASP and participate in activities, contact Scott Coates at [email protected] or Christopher Dent at [email protected].
SPIFAN scientists advance three SMPRs and review OMA Methods for six key nutrients
In the 21st meeting, members of the Stakeholder Program for Infant Formula and Adult Nutritionals (SPIFAN) approved three new SMPRs: two for human milk oligosaccharides and one for lactoferrins in infant formula.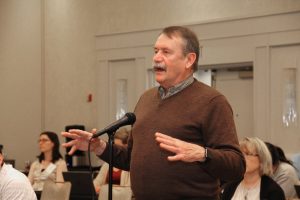 Due to travel restrictions, the participation needed for consensus-based approval was not reached at the meeting, so those present voted to send the SMPRs to the wider SPIFAN community for a vote. AOAC will be sending out an electronic ballot for community consensus next week. For additional information on SPIFAN, please contact Delia Boyd at [email protected].
The vote came as part of a full day of deliberations that started with some updates on SPIFAN global engagement, including a presentation on a single lab validation by the AOAC India Section to extend an existing AOAC Minerals and Trace Elements method for Indian matrices.
The SPIFAN Nutrients Expert Review Panel also reviewed progress in an initiative to re-examine the methods currently published in Chapter 50 of the Official Methods of Analysis (OMA) to revise and update the chapter that have not yet achieved Final Action status. Read more >
Please send any feedback you have on methods in chapter 50 of the Official Methods of Analysis to [email protected].
A year of analytical thinking: Six Food Authenticity & Fraud Program SMPRs ready for public comment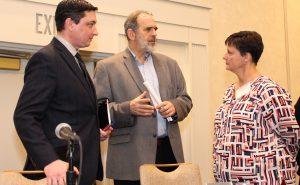 Working group chairs for both the Nontargeted Testing and Targeted Testing Working Groups delved into the complexities they encountered during a full year of work writing SMPRs for three commodities that top the list in food fraud: honey, milk, and olive oil. The two working groups, one on targeted and one on non-targeted testing, presented a total of six draft SMPRs.
Following a lengthy discussion, a consensus was reached that all three draft SMPRs are ready for public comment.
The meeting concluded with two discussions, one on considerations for reference materials and their use for nontargeted and targeted testing and the other one on the practical application of seafood barcoding as an approach used to support traceability of seafood in assessing seafood authentication. Read more >
To participate in reviewing the draft SMPRs or for more information about the Food Authenticity Program, please contact Palmer Orlandi at [email protected] or Delia Boyd at [email protected].
Five key takeaways from Analytical Solutions Forum 2020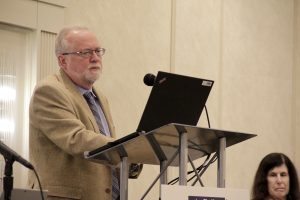 The 2020 Analytical Solutions Forum (ASF), in a full-day program held at the Midyear Meeting, reinforced its role as an idea incubator and AOAC's renewed commitment to actively engage its Communities and Sections to bring to light emerging analytical challenges.
The Forum at this year's Midyear Meeting provided an opportunity for stakeholders to hear about AOAC's core programs; horizon scanning perspectives from ASF Steering Committee members on conversations with EU food safety authorities, including recent activities on glyphosate residue detection, pesticide and veterinary drug residue analyses, detection methods for modified mycotoxins, and sampling science; global perspectives from the Asia Pacific Economic Cooperation, and emerging challenges in glyphosate detection, mycotoxins, natural food color safety, and future analytical challenges for cannabis and hemp. The ASF also featured sessions on next steps for ensuring vaping safety and the use of genomic applications for botanical authenticity, both issues identified in the previous Forum. Read more >
AOAC launches Analytical International Methods and Standards (AIMS) Program
The 2020 Midyear Meeting saw the launch of a new scientific program, the Analytical International Methods and Standards (AIMS) program, whose objective is to address emerging issues and opportunities in food microbiology among the international stakeholder community.
Potential topics for the program included alternative method development criteria for emerging microbial contaminants, validation criteria for evaluation of proprietary methods, recently recognized food, feed, and environmental matrices, advanced molecular applications, bioinformatics, and biotechnology opportunities, and cutting-edge analytical technologies, among other topics. Read more >
Microbiology: New SMPR and two new methods approved at Midyear Meeting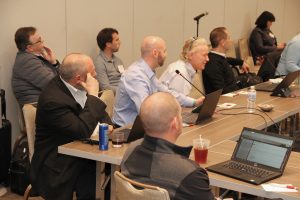 During the AOAC Midyear Meeting, the Working Group on Quantitative Microbiology Method Validation Acceptance Criteria, chaired by Patrick Bird of PMB BioTek Consulting, finalized an SMPR outlining acceptance criteria for the validation of quantitative microbiological methods.
The SMPR establishes acceptance criteria for evaluating a quantitative candidate method against a reference method in an AOAC Research Institute Performance Tested Method, or Official Methods of Analysis validation study.
Current AOAC guidelines for validating microbiology methods present requirements for design validation studies for quantitative methods, but the guidelines do not include acceptance criteria for these validations.  When reviewing methods, AOAC Expert Reviewers and the Expert Review Panel on Microbiology methods struggled to keep consistency in evaluating methods and requested that a working group be created to establish acceptance criteria.
Due to travel restrictions, stakeholders were not able to approve the SMPR; however, the attendees advanced the draft SMPR to be sent to the community with an e-ballot.
In a separate session, the AOAC Expert Review Panel for Microbiological Methods for Food and Environmental Surfaces granted Official Methods of Analysis First Action status to two Salmonella methods, one by GENE-UP® and a second by Solus One.
The GENE-UP® Salmonella method is a real-time PCR assay that utilizes a dual Fluorescence Resonance Energy Transfer hybridization probe. The Solus One Salmonella method is an immunoassay that uses Salmonella-specific selective media and an automated liquid handling procedure. Read more >
Whole genome sequencing and genetic identification testing: Powerful tools for botanicals authentication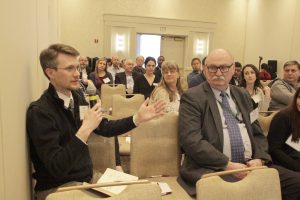 The use of herbal supplements has increased dramatically. But as sales and usage have increased, so too have questions on their authenticity, quality and safety.
This session at the 2020 Midyear Meeting focused on whole genome sequencing applications and genetic identification  testing, which are showing great potential for verifying the authenticity of the botanical material with greater sensitivity than traditional approaches.
In the extensive Roundtable discussions, the consensus was that this technology is a very powerful tool but is still somewhat in the development stages and can best be used in tandem with other analytical methods for authenticity testing. Read more >
SPADA meeting highlights achievements and looks to future
Recapping a successful year, speakers at the AOAC Stakeholder Program on Agent Detection Assays (SPADA) meeting highlighted the achievements of the several working groups; in particular, publication of three new guidance documents as appendices to the Official Methods of Analysis (OMA).
These included Appendix Q, "Recommendations for Developing Molecular Assays for Microbial Pathogen Detection Using Modern in Silico Approaches"; Appendix R, "Guidelines for Verifying and Documenting Relationships Between Microbial Cultures"; and Appendix P, "Guidance for Soil Collection, Characterization, and Application for Biothreat Agent Detection Method and Site Evaluations."
Moving into potential future areas of exploration by SPADA, Greg Tyson (U.S. Food and Drug Administration (FDA)-Center for Veterinary Medicine) highlighted the correlation between genotypic and phenotypic identification as it relates to the National Antimicrobial Resistance Monitoring System, which tracks the consequences of antimicrobial usage in animals. Read more >
Report out from the Working Group on Allergens
On March 11, Samuel Godefroy of Universite Laval, co-chair of the Working Group on Allergens with Jupiter Yeung of Nestle, led a two-hour update on the current status of the group. Achievements to date include an SMPR for milk and an SMPR for peanut in 2018, and formation of a sub-working group to address reference materials.
In a follow-on discussion, Godefroy continued the discussion on reference materials with a review of different approaches for acquiring reference materials. The session concluded with a discussion of next steps. Read more >
Working Group on Rosins takes shape
With wood rosins growing in use in the food supply chain, the lack of standards emerged as an area of concern in the 2019 Analytical Solutions Forum. Six months later, during this Midyear Meeting, the Working Group on Rosins launched and shared their plans for development of SMPRs for characterization and quantification of Glycerol Esters of Wood Rosins from pine species. The working group will continue to flesh out the draft SMPRs, which will be posted on the AOAC website for an open comment period. Read more >
AOAC is still actively recruiting working group members. If you are interested in being a member in the AOAC Working Group on Rosins, please visit the AOAC website Call for Volunteers or contact Christopher Dent at [email protected].